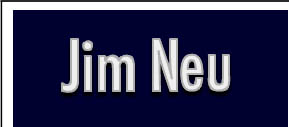 DARK POCKET, 1994
La MaMa; Dallas Theater Center, Texas; Rosemary Branch Theater, London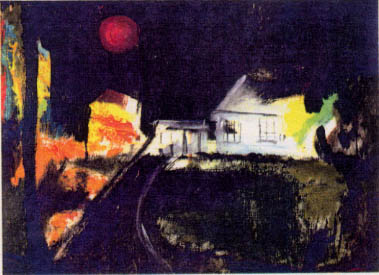 POSTCARD FOR "DARK POCKET" -- painting, "Two-Car Carage with Mars" by Bill Rice.
Two strangers who meet and immediately sense something mysterious about each other. They are both right. While one imagines himself a classic film noir detective, the other believes people have been looking for him for years. As they leap into the wordplay, neither wants to give away too much before learning it all. Never straying too far from reality, but not attaining it either, songs break out Ė little revelations. As they explore the compatibility of their respective conspiracy theories, they wonder if their meeting was such an accident after all.
Bill
we could be anybody
Jim
we seem like we could be anybody to me
Bill
it makes me feel like a regular person just to think of it
Jim
what did you feel like before?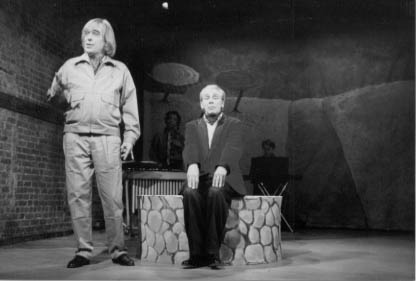 Jim Neu and Bill Rice
Bill
like I was mind-surfing at the high end of the infospectrum
Jim
itís good to keep busy
Bill
you donít seem surprised
Jim
I donít surprise easy
Bill
what does it take?
Jim
what have you got?
"Jim Neu's definitely one of the most effulgent beams currently shining on off-off-Broadway." --Critic's Choice, America Online
"---minimalist writing and acting at one of the best performance levels around." -- New York Native